Advertisement


Report: Over Half of Daily Radio Listeners Only Listen In-Car
The radio industry knows the importance of in-car listening to the medium. New data from Edison Research to be explored at The Radio Show in September shows how crucial the car really is. Americans are more likely to listen to audio in their cars or trucks on any given day than even in their homes, according to Edison's Share of Ear study. The car is by far the most popular place for people to listen to AM/FM Radio content.
More than half of all Americans age 13 and older report listening to radio in their cars on any given day. And Share of Ear shows that more than half of all people who listen to radio on any given day listen in their cars and in no other location.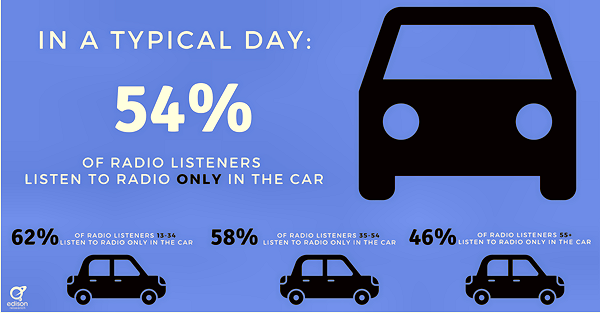 As the above graphic shows, the younger you are, the more likely they are to listen to broadcast radio exclusively in the car. Nearly two-in-three of those ages 13-34 who listen to AM/FM Radio on a given day listen in the car and nowhere else.
These findings, and many others will be presented in a session called "Miles Different: In-Car Audio 2018" on September 27 at The Radio Show. Edison's Larry Rosin will summarize data from Share of Ear, Infinite Dial, and a tracking survey performed with NPR, to show the state of in-car audio today.
Advertisement


Latest Radio Stories
Entravision Appoints Chris Munoz to EVP/National Sales
Entravision has appointed Chris Munoz to the executive leadership team as the Executive Vice President of National Sales. Munoz will oversee the company's national spot television, national spot radio, network radio and national digital audio More
WZZR and WRLX/West Palm Beach Swap Signals
iHeartMedia West Palm Beach announced today that Real Radio WZZR and Mia WRLX are interchanging signals. Beginning today, Real Radio will now broadcast on 92.1 and Mia will broadcast on 94.3. Real Radio 92.1 will continue to be the Palm Beach Hot More
How Are You Responding?
When I created the Dealing with Tragedy seminar on demand, I didn't expect emergencies on top of emergencies. But here we are. Most of my clients have asked what they should do following last week's George Floyd murder and the ensuing protests More
Advertisement


Report: No Audience Impact From COVID-19 in Markets 50-100
According to just-released Nielsen data from an April 2020 listening analysis of 44 diary markets, and cited by Westwood One's Insights team on its blog, there was no audience impact from COVID-19 in markets ranked 50-100. AM/FM radio retained 97% More
Philadelphia Pastor to Launch "Philly's Favor 100.7"
"Philly's Favor 100.7," a new Gospel & Inspirational outlet, will launch on W264BH and WJBR-FM-HD3/Philadelphia on June 8. It will also be available to stream online and on the app. The brain child of JAMJACKJR Enterprises President/CEO Jonathan More