Advertisement

Radio Ads, In-Car Visuals Generate Increased Brand Effect
The combination of the in-car visual with the over-the-air radio ad generates a major improvement in advertising recall and impact. The latest Westwood One blog post looks at the results from a MARU/Vision Critical study, commissioned by Westwood One, which looks at consumers with vehicles who have HD Radio technology. The study revealed the impact of a retailer's visual in the in-car display when synced to the advertiser's radio ad.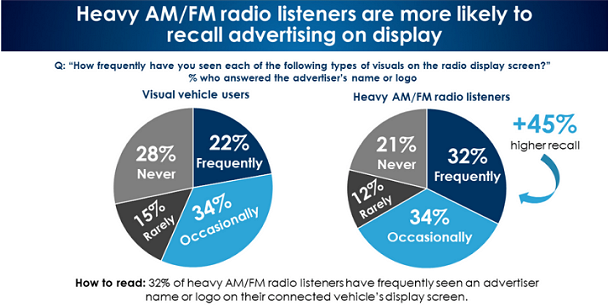 Heavy AM/FM radio listeners and those who spend the most time in their car regularly pay attention to in-car display screens. The more time consumers spend in the car, the more they pay attention. 68% of those who spend 11+ hours weekly in the car regularly pay attention. Heavy AM/FM radio listeners recall seeing visual information from in-car display screens. Two-thirds of heavy AM/FM radio listeners have frequently or occasionally seen the advertiser name or logo on their connected vehicle's screens.
Consumers who regularly viewed their in-car display were more likely to recall the advertiser radio ads. 66% of regular in-dash radio display viewers could recall the retailer's radio ads. Those who recall the retailer's in-car visuals were more likely to visit the stores. 84% of those who recalled seeing the in-car visual synced to the radio ad had visited or planned to visit the store.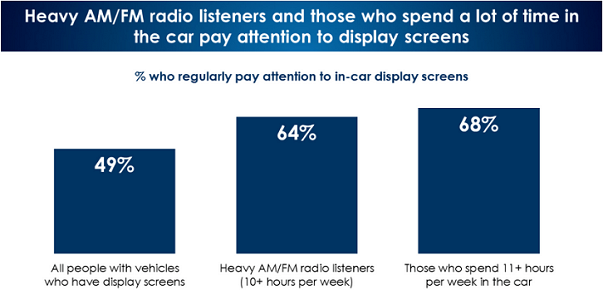 Recall for the products advertised in the AM/FM radio ads was stronger among heavy radio listeners. 64% of heavy AM/FM radio listeners who recalled the major retailer's advertising remembered the specific service featured in the ad.
Advertisement