Advertisement


YouTube Ties with FM as Biggest Music Discovery Source
NuVoodoo Media Services presents the second installment of its spring webinar series starting Monday, March 18 with results from NuVoodoo's latest Ratings Prospects Study of 3,084 respondents, ages 14-54, across all PPM markets. Recent data, collected in January of this year, suggests that FM Radio is losing ground as the biggest source of music discovery among most listeners, the majority of whom discover music through YouTube, with Spotify and Pandora following YouTube's lead.
NuVoodoo Media Services Executive VP/Research Insights Leigh Jacobs explained, "When asked, "Which of these sources would you expect to be good at helping you discover music you do not know, but fits your taste?", the majority answered YouTube. Among likely ratings respondents and those who listen to FM at least two hours a day, FM is no better than tied with YouTube as a music discovery source."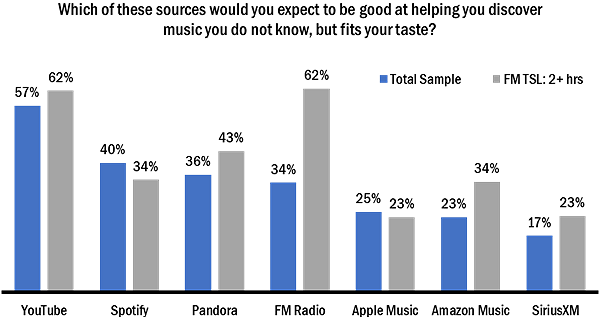 NuVoodoo Media Services Executive VP/Marketing Mike O'Connor noted, "Those with a glass-half-full attitude will realize that forming a local community of YouTube channel subscribers can help boost a station's image as curator among local influencers. And, when it comes time for paid digital marketing, every YouTube interaction can be bundled as seed data for retargeting and lookalike audiences. These so-called "first party" data relationships give stations a huge advantage over their competitors."
President/CEO Carolyn Gilbert added, "Though these findings are dismaying - especially given radio's long-held dominance over all other media as the place to discover new releases or artists - smart radio marketers will see a distinct opportunity to leverage YouTube's popularity as a source for music discovery to strengthen their connections with listeners and extend their station brands in a powerful way. We invite all radio professionals to learn more about the opportunities and insights uncovered by our latest Ratings Prospects Study in the second installment of our Spring 2019 Webinar Series beginning Monday, March 18th at Noon Eastern."
The NuVoodoo Ratings Prospects Study is conducted twice a year to learn more about those who are most likely to say "yes" to the opportunity to wear a meter or fill out a diary in order to provide NuVoodoo clients with competitive insights and advantages that they can exploit to capture higher ratings. This is the 13th Ratings Prospects Study that NuVoodoo has completed since 2011. The company shares the top-level findings of its studies with its radio broadcasting clients to develop winning next-generation marketing and programming strategies for stations of all formats in PPM markets.
NuVoodoo will launch the second installment of its Spring 2019 Webinar Series, starting on Monday, March 18th at Noon EST (with two more opportunities to participate through Monday, March 25th).
Advertisement