Advertisement

U.S. Local Ad Revenues to Reach $148.8 Billion in 2019
In an update to its U.S. Local Advertising Forecast 2019, BIA Advisory Services forecasts the total local media marketplace in 2019 will be slightly stronger than expected earlier in the year, with ad revenue reaching approximately $148.8 billion. BIA says the elements supporting the advertising marketplace are a strong economy, an early start to the 2020 election, and most notably, increases in mobile and mobile-social advertising.
Traditional media will retain a significant portion (60 percent) of the overall spend, $89.2B, with digital ad revenue at 40 percent with $59.5B. However, the future of online/digital advertising revenue is progressively increasing, with a 2018-2023 CAGR of 9 percent. Over the same period, traditional advertising revenues will see a decrease in the 2018-2023 period with a CAGR of -1.4 percent.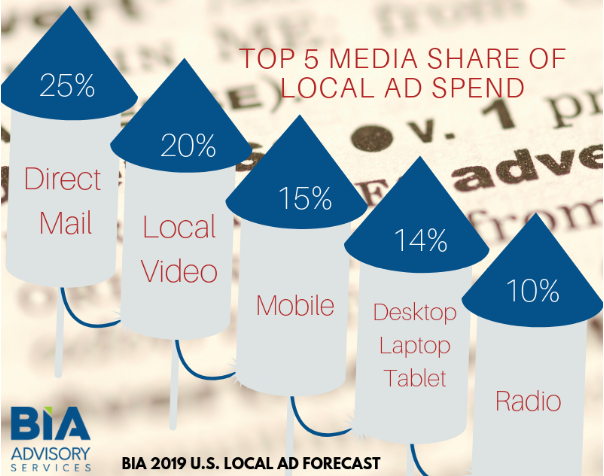 Local Radio is forecast to earn $14.5 billion (9.8 percent share). BIA Advisory Services says competition for audiences continues to erode over-the-air (OTA) advertising revenue, however online efforts by stations are helping to support a slight growth in overall revenue.
"This is a very interesting time for local media," said BIA Advisory Services SVP and chief economist Mark Fratrik. "Although it's a non-political year, the sheer number of Democratic candidates running and the significant attention this presidential race is garnering is driving earlier than usual advertising revenue across television and mobile/social channels. Additionally, we are more bullish on certain digital advertising platforms like mobile due to its targetability, measurability, attribution and high level of adoption by consumers."
According to the forecast, the top five media (revenue and share of market) in order of largest to smallest contribution in local advertising for 2019:
Direct Mail: $37.2 billion (25 percent share)
Local Video: $29.5 billion (19.9 percent share) (*Includes local Over-the-Air (OTA) TV, local cable, local online video, out-of-home video, mobile video)
Mobile: $21.8 billion (14.6 percent share)
Desktop/Laptop/Tablet (Online/Interactive): $20.2 billion (13.6 percent share)
Local Radio: $14.5 billion (9.8 percent share)
"It can be surprising to see that direct mail continues as such an important medium," commented Fratrik. "However, it directly targets more households than any other channel and mobilizes local consumers to make purchases, especially when combined with campaigns that make use of digital platforms. The key for revenue growth (and protection) today is not just to look at the media in your sector, but across all local media because you compete across all ad channels today."
Advertisement


Latest Radio Stories
Dawn Girocco Named DOS for Three Cumulus/DFW Stations
Media executive Dawn Girocco will rejoin Cumulus as Director of Sales for New Country 96.3/KSCS-FM, 99.5 The WOLF/KPLX-FM and Hot 93.3/KLIF-FM in Dallas, effective December 16. Girocco was most recently Vice President/Market Manager for Cumulus Los More
Advertisement

Fusion Radio to Acquire FM Translator W277AE Madison WI
Fusion Radio has agreed to acquire FM translator W277AE (103.3)/Madison, WI, from Faith Center of Rockford IL for $100,000. W277AE operates with 38 watts and has been rebroadcasting Christian WFEN/Rockford, IL on 88.3 mHz. Plans are to upgrade the More
Envision to Offer ''A Christmas Special For The Troops''
Envision Networks' "The National Defense Radio Show Holiday Special" will be heard around the world by U.S. troops and their families this holiday season on the Armed Forces Radio Network and available free to any radio outlet to broadcast now More