Advertisement

Progressive Leads on Radio in 2020's Top Advertisers
Procter & Gamble, the top parent company advertiser in the U.S, aired 22% more spots in 2020 than in 2019. The consumer products goods company aired 23,154,642 spots in monitored markets on radio, broadcast TV and cable in 2020, compared to 18,913,975 during the prior year, according to Media Monitors' rankings of the top 100 advertisers for the year.
Meanwhile, GEICO was again the nation's top national advertiser, airing 6,984,053 instances - also an increase over 2019 - across local cable, broadcast radio and TV. Procter & Gamble topped the TV and cable rankings, and held onto the number two spot for radio, where it followed closely behind the U.S. Government.
"Faced with a pandemic, civil unrest and a presidential election, Procter & Gamble held the course on its advertising strategy," said Media Monitors President and CEO Philippe Generali. "The company increased advertising of its brands in all channels, but particularly in radio, where it increased the number of instances by 44%."
"As the pandemic upended normal routines, an opportunity was created for some advertisers," added Generali. "For example, Babbel, a language learning app, rode a wave of increased interest in online education. The company advertised more on radio, where it entered the top 10 at number five. Meanwhile, insurance advertisers like GEICO and Progressive ran more spots for home and rental insurance and promoted givebacks on auto insurance."
Procter & Gamble wasn't the only advertiser to invest more airtime on radio. Another major brand, Progressive Insurance doubled its number of instances, airing 2,694,039 spots in 2020, up from 1,307,010 instances in 2019, according to Media Monitors data.
In addition, several new brands entered the top 10, including Babbel, which entered the top 100 at number five. In September, the company reported its app had been downloaded more than 10 million times. Allstate jumped to number six from number 57, while Quicken Loans entered at number eight, up from number 18.
Even as safe-at-home mandates created rising interest in home improvement projects, Home Depot dropped to number three from number one. However, Lowe's increased the number of spots it aired on radio to 1,668,121, up from 1,410,499. It climbed in the ranking to number four.
Top Parent Advertisers in Radio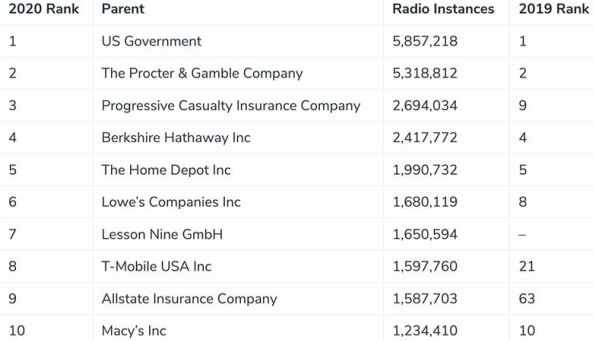 Top Brands in Radio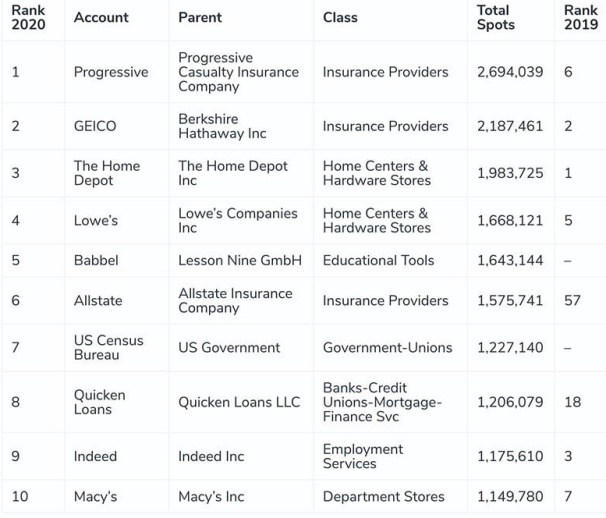 Advertisement


Latest Radio Stories
DOJ Won't Take Action on Music Licensing Consent Decrees
Speaking at the Vanderbilt University Law School on Friday, U.S. Assistant Attorney General Makan Delrahim said the Department of Justice's Antitrust Division will not take action on the Consent Decrees the U.S. government entered into with ASCAP More
2020 CRHoF Honorees to be Inducted During CRS 2021
The Country Radio Hall of Fame Class of 2020 will be honored during CRS 2021: The Virtual Experience. Due to COVID restrictions, the annual Country Radio Hall Of Fame induction ceremony and dinner could not be held as a live event. Country Radio More
ABC News Radio Announces Special Coverage of Inauguration
ABC News Radio will offer live anchored coverage of the inauguration events, starting with the COVID-19 memorial ceremony on Tuesday, January 19. On Wednesday, January 20 ABC News Radio will offer a primetime special report that includes coverage of More
Advertisement

WDZH (ALT 98.7)/Detroit Reveals New Weekday Lineup
Entercom has announced a new weekday programming lineup for Alternative WDZH-FM (ALT 98.7)/Detroit, effective January 18. The station, previously known as "98.7 The Breeze," launched in November, 2020. The new weekday programming lineup includes More
Seattle's 98.9 The Bull Adds Bobby Bones
Hubbard Radio's 98.9 The Bull in Seattle will be adding The Bobby Bones Show to Seattle Mornings beginning Tuesday, January 10, airing 5:00am - 9:00am. "Seattle is one of my favorite cities in America," said Bones. "I'm extremely excited to be on More
Beasley Media/Boston Reveals Sales Management Promotions
Beasley Media Group/Boston promotes Kari Talieri (far left) and Jesse Carbone to General Sales Manager at the company's Boston-based radio properties, including WBZ-FM (98.5 The Sports Hub), WKLB-FM (Country 102.5), WROR-FM (105.7), WBOS-FM (Rock More