Advertisement


Americans Spend More Time with Audio on Mobile Phones
America's listening has shifted to mobile phones, a trend observed by Edison Research for years. Its latest Infinite Dial study shows that 88% of Americans age 16+ own a mobile phone, and as the availability of audio apps and podcast apps has increased, so has consumption on a mobile phone. Edison Research's Share of Ear database has been tracking audio consumption on various devices since the beginning of our study in 2014.
The graph below shows the percent of all audio, not just radio content, that is consumed via mobile device versus via a traditional radio receiver. In 2014, around half (49%) of all audio content was consumed on a traditional radio receiver, compared with 18% that was consumed on a mobile phone. The years since showed steady growth for mobile devices as time spent with traditional radio receivers declined.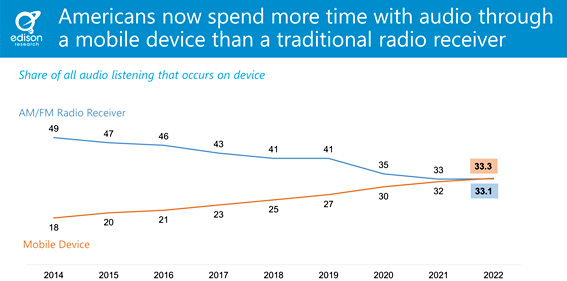 As of Q4 2021, radio receivers still had the slightest edge over mobile, with 33% of all audio being consumed on a radio and 32% on a mobile phone. With the latest release of Q3 Share of Ear data, consumption of audio on a mobile device just passed radio receiver consumption, 33.3% to 33.1%.
This graph doesn't reference radio content, which can also be consumed via smart speakers, radio station apps (also on a mobile phone), SiriusXM receivers (also a form of radio content) or smart TVs. It references the hardware -- actual radio receivers.
Mobile devices are multi-media devices, providing content from many sources. Radio receivers with their single-use functionality and becoming more difficult to find outside of cars, just have not been able to compete.
Advertisement


Latest Radio Stories
iHM/New York Region President Scott Hopeck to Exit
iHeartMedia/New York Region President Scott Hopeck will exit after nearly 20 years to pursue another opportunity. He's headed the New York region since 2015 and previously had oversight of the company's cluster of stations in Phoenix. Before that, More
BFoA Launches Social Media Campaign ''12 Days of Giving''
The Broadcasters Foundation of America is launching a social media campaign on Monday, December 11 with "12 Days of Giving." Each day will feature a different message, ranging from thank you notes from grant recipients to positive statements about More
Skyview Networks Extends Partnership with SnoCountry
SnoCountry, a source for snow conditions and ski resort information, and Skyview Networks ink a renewal of their partnership for network audio sales. By utilizing Skyview's sales platforms, advertisers can reach SnoCountry's winter enthusiasts with More
Advertisement


WGTS-FM/Washington DC Collects Toys for Tots
WGTS/Washington, DC is teaming with the United States Marine Corps and DC ABC affiliate 7 News to collect toys for kids. All three groups joined together at the Iwo Jima Memorial to host one of the largest toy drives in the region. For six hours, More