Advertisement


SXM Media Reclaims Top Spot as Largest U.S. Podcaster
Edison Research announces the Top Podcast Networks in the U.S. for total network reach in Q3 2022, as SXM Media, Spotify and iHeartRadio take the top three spots, respectively. After falling behind Spotify by a narrow margin in the Q2 report, SXM edges back ahead this time. Each are well out ahead of third place iHeartRadio, which in turn is comfortably head of the fourth spot on the chart, Audioboom. The list ranks the most listened-to podcast networks based on total audience reach from Edison Podcast Metrics.
The Top 30 Podcast Networks for Q3 2022: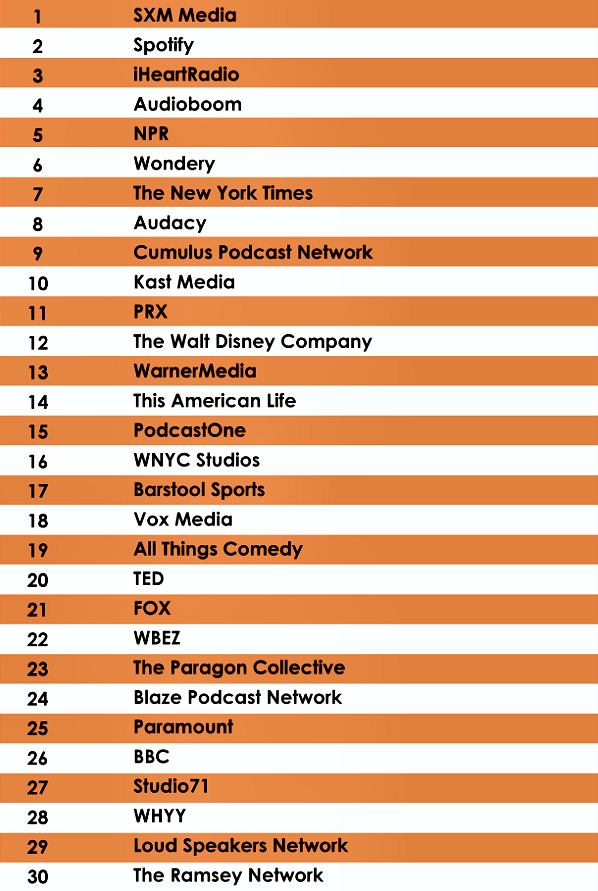 Within the top ten, the biggest jump in rank goes to Wondery-Audible-Amazon Music, up two rank positions, propelled in part by their acquisitions of major shows like Morbid and My Favorite Murder. Bubbling below the top ten, WarnerMedia gained three levels in rank, now up to 14th.
This ranker measures reach as a percentage of the weekly podcasting audience. Rankings are compiled by measuring the total unduplicated reach of all the shows represented by a given network. Listening is credited to the producer and/or the network that represents the advertising for the show, not the platform or app that the listener uses to access the podcast.
Advertisement


Latest Radio Stories
American Music Fairness Act Re-Introduced in Congress
The American Music Fairness Act, legislation that would impose a new performance fee on broadcast radio outlets, has been re-introduced in Congress. If passed, the Act would mandate a fee on over-the-air music airplay on free, local radio that many, More
iHeartMedia New York Names Victor Giacomelli as VP/Sales
iHeartMedia/New York appoints Victor Giacomelli as Vice President of Sales for Urban WWPR (Power 105.1) and WWRL-AM (Black Information Network), effective immediately. Giacomellie joins from Audacy/Denver, where he was the Director of Sales. He More
CMG Orlando Ups Ashley Williams to Director of Sales
Cox Media Group/Orlando elevates Ashley Williams to Director of Sales. She's been with CMG for 15 years, crossing divisions from Radio, Corporate Digital and Television. Williams started her career with CMG in 2007 as a Television Sales Assistant More
Advertisement


Women In Radio to Host 7th Annual Conference in Atlanta
Women In Radio announces its 7th Annual "Cocktails, Cupcakes and Conversations" conference, taking place on March 11 from 12-3pm in Atlanta. This event is sponsored by Korbel, Originals by Africa's Best, Maple Street Biscuit Company, Foto Beauty Bar More
FSR Provides 23rd Annual Super Week Coverage from Arizona
FOX Sports Radio (FSR) has announced plans for its 23rd annual Super Week coverage beginning Monday, February 6. Featuring interviews with NFL players, newsmakers and celebrities, FSR will deliver coverage before, during and after the Big Game in More
Norfleet Joins KBME (Sportstalk 790)/Houston for Middays
KBME (Sportstalk 790) in Houston names Stan Norfleet to middays, weekdays from 10am-12pm, effective February 13. Norfleet, an NFL prospect, played football at the University of Virginia and Texas Southern University. He later worked for the Houston More