Advertisement


Adults Spend Over 50% More Time with Radio Than Streaming
In part two of Edison Research's four-part series on the strength of AM/FM radio in the U.S., the company finds listeners ages 18+ spend more than twice the amount of their daily audio time with AM/FM radio compared to streaming audio. Using the Share of Ear dataset, Edison compared the share of daily audio time spent with AM/FM Radio listening (including over-the-air and streams) with non-AM/FM streaming audio (including Spotify, Pandora, Amazon Music, Apple music, etc.). With adults in the U.S. clocking 71% of their time listening to AM/FM Radio, that's more than double the time spent with Streaming Audio (29%).
The graph below shows only AM/FM Radio (which includes streams) versus ad-supported streaming (not all streaming). Note that listening to SiriusXM, YouTube, podcasts, music channels on TV, owned music such as CDs and audiobooks are not included in these comparisons.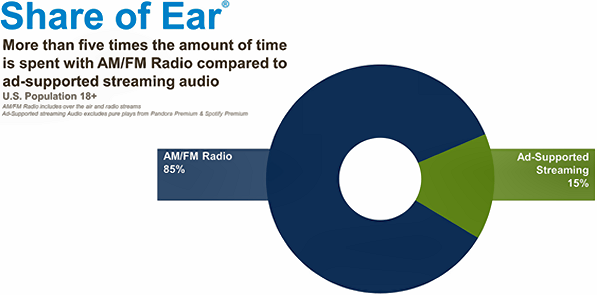 More than five times the amount of daily audio consumption among U.S. adults is spent with AM/FM radio, including radio station streams, (85%) than with ad-supported streaming audio (15%).
Much of the time spent listening to streaming sources isn't ad-supported; but these points illustrate a strength of traditional AM/FM radio and its streams when compared to ad-supported streaming (including Spotify, Pandora, Amazon Music, Apple music, etc.).
Advertisement


Latest Radio Stories
21 Members of Congress Added as LRFA Cosponsors
Twenty-one members of the House of Representatives and two senators have added their support to a resolution opposing "any new performance fee, tax, royalty, or other charge" on local broadcast radio stations. The Local Radio Freedom Act (LRFA), More
iHM Bans ChatGPT Use to Protect Intellectual Property
In an internal iHeartMedia memo sent to staff, Chairman/CEO Bob Pittman and President/COO and CFO Rich Bressler are warning employees not to use ChatGPT or any other artificial intelligence services on company devices. It also asks that staffers not More
Audacy Inks EVP/COO Susan Larkin to New Agreement
During its annual meeting of shareholders, Audacy's board of directors renewed one executive's contract while a board member has left the company. Executive VP/COO Susan Larkin has signed a new deal keeping with Audacy through at least May 4, 2026, More
Advertisement


Top 25 Podcasts Reach 45% of Weekly Podcast Listeners
When advertisers look at the podcasting space, they are met with the reality of a world filled with hundreds of thousands of shows, many of which have loyal audiences. All across the spectrum there are effective podcasts targeting niche audiences More