Advertisement


Podtrac Issues Listening Outlook for the Holidays
Wondering what this holiday season may look like for podcast listeners? Here's some data which may shed some light on what the holidays have in store. Based on an iHeart survey of podcast listeners conducted between August 31 and September 7 of this year, 6 in 10 expect to spend the same or more time than last year traveling by car over the holidays, and 8 in 10 plan to spend more time than last year with family.
Will more time in the car lead to more podcast listening? Or does more family time mean less podcast listening? iHeart Executive VP Hetal Patel thinks that podcast listeners actively looking forward to the holidays can only be good for podcast listening.
"Our survey indicates that three-quarters of podcast listeners are looking for experiences that improve their mood this holiday season," said Patel. "Podcast listening has continued to grow during the pandemic and given the early indicators we are seeing; we expect people to continue listening to podcasts as it provides the enjoyment they crave."
Podtrac's historical data shows some interesting patterns. Wednesdays are consistently the highest podcast listening day of the week with traffic dipping on the weekends and Sunday being the lowest listening day of the week as illustrated by the Q4 2019 data below. This pattern has continued through the pandemic to date.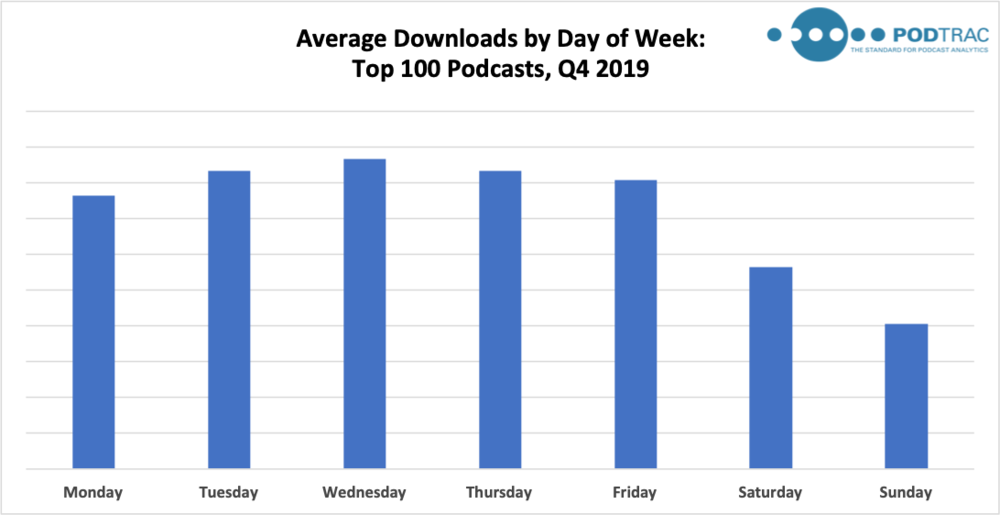 Podtrac data also shows that October tends to be the highest podcast listening month of the year, with downloads dipping during November and December but not as low as levels earlier in the year.

Podcast listening tends to drop over Thanksgiving, Christmas and New Year's holidays per data from Podtrac, but is above average before and after those holidays, with strongest listening for the season in early January.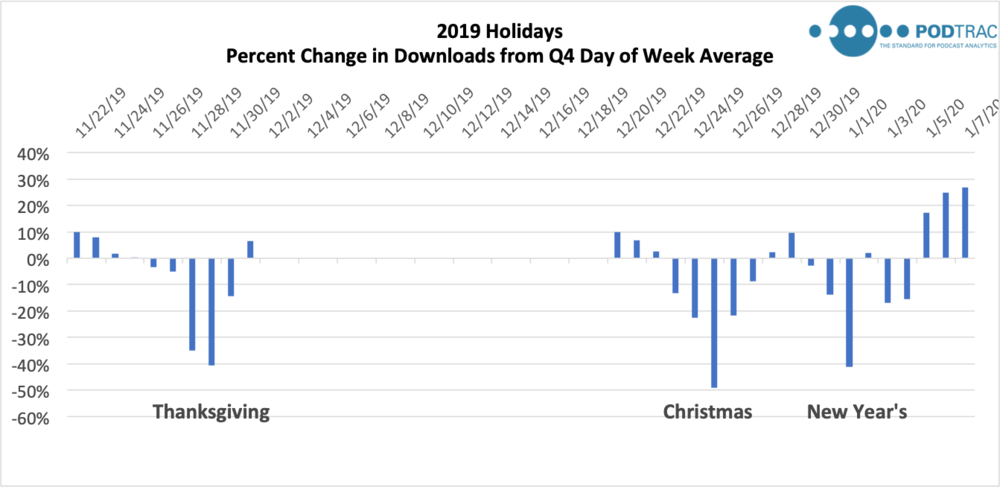 While overall podcast listening is down slightly in November and December from October levels, two categories - Music and Leisure - showed increased listening during this time frame in 2019, per data from Podtrac.

Given the surprises that 2020 has held for us so far, we can't be certain what podcast listening will look like during the holidays this year, but signs point to continued growth.
"It will certainly be interesting to track the data to determine if the pandemic does have an influence on podcast listening over this holiday season," commented Podtrac CEO Mark McCrery.
Advertisement


Latest Radio Stories
11th Annual Benztown 50 Announces Call for Applications
Benztown will release the seventh annual Benztown 50 List of Radio's Biggest Imaging Voices, a listing of the top 50 voiceover artists in the U.S. and Canada. The Benztown 50 list will be based on several criteria, including number of radio station More
NBC Sports, SiriusXM to Launch New 24/7 Channel
NBC Sports and SiriusXM have announced the launch of a new 24/7 audio channel featuring some of the biggest names in sports talk -- NBC Sports Audio on SiriusXM -- which debuts Thursday, December 3. The new channel will feature live daily weekday More
Mediabase Announces the Retirement of Jeff Gelb
Mediabase has announced the retirement of Director, Label Sales & Marketing Jeff Gelb, a 50-year music industry vet. Gelb started his professional Radio career in 1971 at WNCR and WMMS in Cleveland. He then moved to San Diego and worked on-air More
Advertisement


Casey Daniels Joins Morning Show at WFGR/Grand Rapids
Townsquare Media/Grand Rapids welcomes new morning show co-host Casey Daniels to Classic Hits 98.7 WFGR. She debuted Tuesday, December 1. Daniels joins the station's successful current morning host JoJo Girard, to form the Casey & JoJo Show. More
Eagle Communications Closes on Legacy Nebraska Duo
Eagle Communications has closed on its previously announced acquisition of 100kW Country KZTL-FM (93.5)/Paxton and 100kW Rock KRNP-FM (100.7)/Sutherland, both in Nebraska, from Legacy Communications. Eagle Communications is Kansas-based, More
Cumulus/Nashville Builds Toy Field for Forgotten Angels
The Salvation Army's Forgotten Angels Program will benefit from the toys collected at the 13th Annual Toy Field presented by Cumulus Nashville and T-Mobile on Tuesday, December 8 at Nissan Stadium. Middle Tennesseans are invited to come out from More