Advertisement


Staying PUT: Consumers Spend More Time On Media Amid Crisis
Regardless of whether you call it social distancing, quarantining or retreating to a safe place, heading home amid concerns about the novel coronavirus (COVID-19) is bound to affect media consumption habits. In fact, staying put in our homes can lead to almost a 60% increase in the amount of content we watch in some cases and potentially more depending on the reasons per a new Nielsen report. Considering that consumers around the globe are already leaning into the growing array of content options and channels, a 60% increase is significant.
Media consumption in the U.S. is already at historical highs. As reported in the most recent Nielsen Total Audience report, Americans are already spending just shy of 12 hours each day with media platforms. What's more, three-fourths of U.S. consumers are broadening their media options with streaming subscriptions, radio, and TV-connected devices.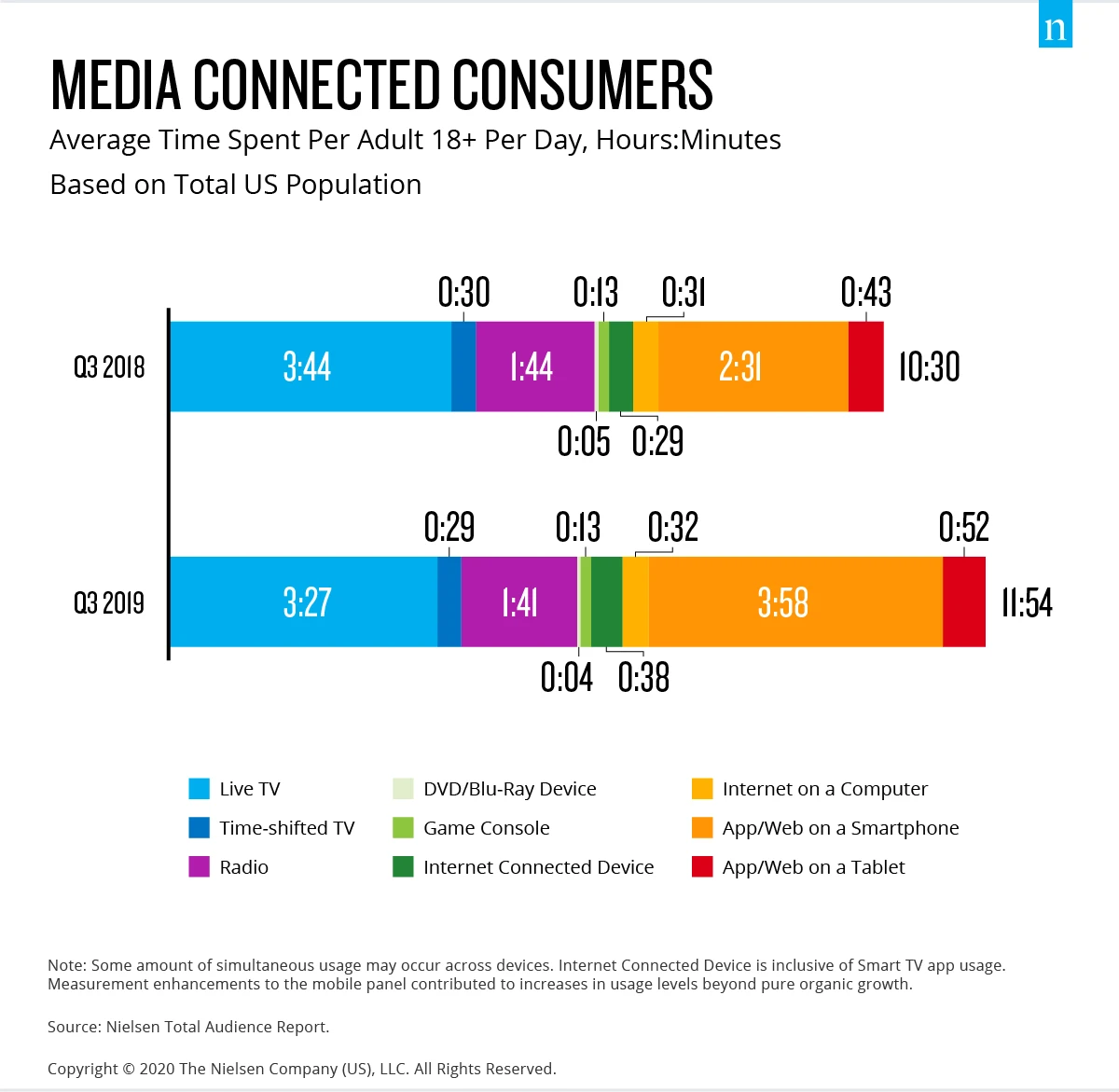 You can access the entire report HERE.
Advertisement

Latest Radio Stories
NPR Names Kelly McBride as Public Editor
NPR President and CEO John Lansing announced today that the Poynter Institute's Kelly McBride will serve as the organization's next public editor, responsible for bringing transparency to matters of journalism and journalism ethics. Through the More
Advertisement


Podtrac's Top Podcast Publishers for March 2020
Podtrac has released their top podcast publishers ranking for March 2020. This month they expand the ranking to the Top 20 publishers and welcome first time participants: WarnerMedia(#10), Fox News Radio (#18), and Slate (#20) along with More
"The Jesse Kelly Show" Debuts in National Syndication
Key Networks announces that its new three-hour morning talk radio program, The Jesse Kelly Show, debuts today in national syndication, and is available to stations Monday through Friday from 9am-Noon EST, with delayed broadcasts available via XDS. More
KOGO/San Diego Launches "Right Now"
News Radio 600 KOGO/San Diego has launched a special program, "RIGHT NOW," a one-hour business, health and lifestyle program hosted live, weekdays from 8 to 9 p.m., focusing on five topics that matter most "Right Now" during the Coronavirus More