Atlanta's Kicks 101.5 Debuts New Morning Show
| | |
| --- | --- |
| RADIO ONLINE | Thursday, June 29, 2017 | 0:37am CT | |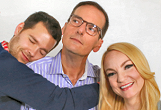 Country WKHX-FM (Kicks 101.5) Atlanta debuts "Caddy, CJ and Ali" from 6-10am weekdays with co-hosts Cadillac Jack, CJ and Ali Mac. Former morning co-host Dallas McCade, who was promoted to Kicks 101.5 Music Director earlier this week, also debuts as host of middays from 10am-3pm, her new permanent time slot. New morning co-host Ali Mac formerly hosted middays on Kicks 101.5, while CJ segues to mornings from his previous PM drive show (3pm-7pm). Concurrent with the line-up changes, Kicks 101.5 adopts the new slogan, "Georgia's Country For Life." Program Director Scott Lindy describes the slogan as "A phrase that embodies what Kicks 101.5 has meant to Atlanta and North Georgia for years. Millions of country fans heard Georgia-born country stars like Luke Bryan, Jason Aldean, Zac Brown, Thomas Rhett and Billy Currington for the very first time in their lives while listening to Kicks 101.5 and that tradition continues today. The future of country music is what our history is all about."
---
WDVD Morning Host Fowler Inks Longterm Deal
| | |
| --- | --- |
| RADIO ONLINE | Thursday, June 29, 2017 | 0:20am CT | |
WDVD-FM Detroit morning host Blaine Fowler inks a long-term contract extension to remain with the Cumulus Hot AC outlet. Fowler's morning show has aired weekdays since 2003 from 5:30-9am. He joined WDVD for wakeups from similar duties at WLOL-FM/Minneapolis. Cumulus Media Detroit Director of FM Programming Robby Bridges said, "Blaine and Lauren both are special talents and I'm thrilled they'll make their magic on Detroit's 96-3 WDVD for a long time to come." Fowler added, "I'm having the most fun I've ever had and I'm excited to continue to set the alarm and join Lauren Crocker each morning on the radio here in the Motor City."
---
Sunni Joins Joe Clair Morning Show on WPGC/D.C.
| | |
| --- | --- |
| RADIO ONLINE | Tuesday, June 27, 2017 | 11:11pm CT | |

WPGC-FM Washington DC is moving veteran midday host Sunni (Sunni In The City) into mornings as part of the "Joe Clair Morning Show." Sunni has been on-air for WPGC since January, 2011. In addition, she is active on WPGC's Social Media helping engagement of platforms, most notably Facebook, Twitter and Instagram. Prior to joining WPGC, Sunni was an air talent in Detroit ad well as New York and Miami. "Sunni is the perfect fit for the Joe Clair Morning Show and we are incredibly fortunate she wanted to get up early and make the transition to mornings," said VP/Programming of CBS DC and WPGC Program Director Steve Davis. "Sunni is a breath of fresh air to the Joe Clair Morning Show," added Clair. "Her unique personality and outlook forged by her past experiences make this iteration of the JCMS unstoppable." "I'm truly honored to be able to continue my career in a place like DC where I've felt home since day one, especially at such a legendary station that is WPGC," said Sunni.

---
KSSE/L.A. Launches ''El Cucuy y Mayra Berenice''
| | |
| --- | --- |
| RADIO ONLINE | Monday, June 26, 2017 | 6:50pm CT | |
Entravision announces the premiere of "El Cucuy y Mayra Berenice," which marks the second new Spanish radio show for Renan A. Coello (pictured), known as "El Cucuy de la Manana," after his return to radio in January. The show will air on KSSE-FM (La Suavecita 107.1) in Los Angeles, and feature El Cucuy as host and Berenice as co-host Saturdays from 10am-2pm. Mayra Berenice will join him for the new program each weekend and can already be heard middays on KSSE.
---
The Sports Shop with Reese and Kmac Extended on WRAL/Raleigh-Durham
| | |
| --- | --- |
| RADIO ONLINE | Friday, June 23, 2017 | 10:20am CT | |

Capitol Broadcasting Raleigh, NC, is extending the morning show, "The Sports Shop with Reese & Kmac," for another year on Buzz Sports Radio. The show hosted by Erroll Reese and Kevin McClendon, billed by the hosts as "Urban Sports Radio," is one of the few sports radio morning programs in the country that are co-hosted by two African-Americans. Reese and Kmac started out five years ago with a Saturday show, then moved to a middays two years ago, and last week celebrated their first year in mornings on Buzz Sports Radio. Capitol Broadcasting Sports Radio OM/PD Dennis Glasgow said, "We're very pleased to give a local voice to all our morning sports radio listeners in Raleigh-Durham, but it's clear that this diverse show we've assembled is giving the listener something different, entertaining and just plain fun every day with Reese and Kmac on Buzz Sports Radio." Errol Reese added, "We are extremely grateful and humbled by the confidence that Capital Broadcasting Company has shown in us with the renewal of our contract. We will continue to challenge each other to provide the best "entertaining" sports content that reflects today's climate." Buzz Sports Radio can be heard in Raleigh on 99.3, in Durham on 96.5, everywhere in RDU on 620, with HD Radio on 99.9 HD2.
---
Detroit's Hot AC 96.3 WDVD-FM Blaine Fowler ReUps for Mornings
| | |
| --- | --- |
| RADIO ONLINE | Friday, June 23, 2017 | 10:21am CT | |
Cumulus Media has signed Detroit Hot AC 96.3 WDVD-FM morning show star Blaine Fowler to a long-term contract extension. Fowler's eponymous morning show has aired weekday mornings since 2003 on the station. "The Blaine Fowler Morning Show" is heard Monday through Friday from 5:30am-9:00am on 96.3 WDVD-FM. Robby Bridges, Director of FM Programming, Cumulus Media-Detroit, said, "Blaine and Lauren both are special talents and I'm thrilled they'll make their magic on Detroit's 96-3 WDVD for a long time to come." Fowler added, "I'm having the most fun I've ever had and I'm excited to continue to set the alarm and join Lauren Crocker each morning on the radio here in the Motor City!!"
---
Damon Scott Joins WWYZ Hartford for Mornings
| | |
| --- | --- |
| RADIO ONLINE | Friday, June 23, 2017 | 1:55am CT | |

WWYZ-FM (Country 92-5) Hartford announces the debut of its new morning show, "Damon & Cory," weekdays from 5-10am, effective July 5. The show is hosted by Connecticut radio vet Damon Scott (pictured) and long-time morning host Cory Myers. Scott has served as afternoon personality at crosstown WTIC-FM for the past 27 years. Additionally, Scott serves as Master of Ceremonies for the Hartford Wolf Pack ice hockey home games. "We are excited that a well-known local personality like Damon Scott is joining long-time morning host, Cory Myers, on Country 92-5," commented iHeartMedia's Hartford Region President Steve Honeycomb. "Damon Scott is a familiar name that has been on the radio in Connecticut for years. He understands how to connect with listeners and the local community as well as what it takes to be successful in radio." "When you leave on a high note after 27 successful years, you need a special plan for your return," said Scott. "I am excited to take the next step by joining Country 92-5 and the iHeartMedia Hartford team."
---
iHM Houston Debuts New SportsTalk 790 Lineup
| | |
| --- | --- |
| RADIO ONLINE | Tuesday, June 20, 2017 | 6:55pm CT | |

iHeartMedia Houston announced its new weekday lineup for KBME-AM (SportsTalk 790), effective July 17. The new schedule begins at 6am with "The Josh Innes Show," which has aired in afternoons since October, 2016. Innes (pictured) is a veteran sports radio personality who first worked in Houston radio in 2009. In January 2013, he moved to Philadelphia, where "The Josh Innes Show" on WIP-FM (Sports Radio 94)/Philadelphia. "We've received a lot of great feedback since Josh joined SportsTalk 790," said iHeartMedia Houston Director of AM Programming Bryan Erickson. "Love him or hate him, he's one of the most passionate guys on the radio right now and that resonates with sports fans." In addition to new time slots for air personality Matt Thomas (12-3pm) and "In the Trenches with Koch & Kalu" (10-12noon), SportsTalk 790 announced that veteran football scout, writer and fantasy football expert Jayson Braddock will join hosts Adam Clanton and Sean Jones on "The Bottom Line," which will now air during the afternoons. SportsTalk 790 will also continue its broadcast partnerships with the Houston Astros, Houston Rockets and the University of Texas football and basketball teams. "At SportsTalk 790, we have some of the most knowledgeable sports experts and live and local programming in Houston," said Erickson. "We're extremely excited for this new lineup, which will provide Houston's sports fans with even more exciting updates, insights and compelling conversation about the teams they love."

---
Erin Vermeulen Joins the WCSX/Detroit Morning Show
| | |
| --- | --- |
| RADIO ONLINE | Tuesday, June 20, 2017 | 6:29pm CT | |
Erin Vermeulen joins Big Jim O'Brien as the newest member of the Classic Rock WCSX-FM morning team in the Motor City. She'll begin her new post with Beasley outlet on Monday, July 10. Vermeulen, who began her career at the former WYUR (1310) in Detroit, most recently was heard on the air as a member of the Bill Handel Morning Show at KFI-AM in Los Angeles. Previous to that, she worked in South Africa, Dubai, Cairo, Denver and Phoenix. "Choosing a native Detroiter with a wealth of global experience was a no-brainer for us," said WCSX-FM Program Director Jerry Tarrants. "Erin will be a great on-air compliment and partner to Big Jim O'Brien. We're so excited to bring this combined talent to the air waves of the Motor City." "I am so excited to be back home and can't wait to wake up Motown with Big Jim," added Vermeulen. "It is a great opportunity to join Beasley Media Group, WCSX-FM and an amazing group of talented people."
---
Montgomery Named Lite 101.5/Las Vegas Middays
| | |
| --- | --- |
| RADIO ONLINE | Tuesday, June 20, 2017 | 1:20am CT | |
Aimee Montgomery moves from Hot AC KVGS-FM (Star 107.9) Las Vegas to become the new midday personality on co-owned Lite 101.5 FM. She'll begin her new post on July 5. Montgomery, who joined Star 107.9 in 2015, most recently served as a co-host of the morning show and worked as Brooke and Jubal's local on-air liaison and producer. "We have witnessed Aimee's great attitude, effort, and dedication," said Operations Manager John Candelaria. "We look forward to her applying these same skills across the hall on Lite FM." "I am so excited and grateful for this opportunity to have my voice heard on Lite 101.5, and to be able to stay here with my Beasley family is just the icing on the cake. I have learned so much in the past two years at Star. It's an honor to know that General Manager Tom Humm and Operations Manager John Candelaria have all the confidence in me, as I take my crazy Radio journey to the next level."
---
Cumulus Ups Dallas McCade to WKHX Atlanta MD
| | |
| --- | --- |
| RADIO ONLINE | Monday, June 19, 2017 | 10:41pm CT | |

Cumulus promotes Dallas McCade to Music Director for Country WKHX-FM (Kicks 101.5 FM) Atlanta. McCade, who is currently co-host of Kicks 101.5 morning show, "Cadillac Jack and Dallas Mornings," announced on-air Monday that she will be leaving the show to take on the Music Director role for the station and will also be on-air weekdays in a timeslot to be determined. Morning co-host Cadillac Jack added that the morning show will be evolving and the station will reveals its new morning line-up on Thursday morning. VP/Market Manager Sean Shannon said, "Radio is really at its best when we find places for our most talented people to pursue their passion and purpose. Dallas was made for country music and her understanding of the artists, the music and the unique connection this format makes with its listeners made this move a no-brainer." PD Scott Lindy added, "Dallas knows Country music like few I have ever met. Her knowledge, her relationships and her love for the format are just the fuel we need to launch Kicks into another orbit." McCade said, "This is a huge honor for me to be able to apply my passion for Country music in a capacity that helps Kicks 101.5 serve the Country audience in Atlanta and all of North Georgia. I will dearly miss Cadillac Jack and the fun we have had for many years in the morning. A position like this doesn't come along every day and it was an opportunity I could not turn down."
---
Cumulus Signs Drake Hall to Multi-Year Extension
| | |
| --- | --- |
| RADIO ONLINE | Friday, June 16, 2017 | 0:28am CT | |
Cumulus Media signs veteran morning personality Drake Hall to a long-term contract extension with Rock WXMX-FM (98.1 The Max) Memphis. Hall hosts The "Drake Hall Show" with Danni, Wes & Syd weekdays from 6-10am. He has been an on-air personality for 98.1 The Max since 2006 and a talent in Memphis for over 30 years. VP/Market Manager Morgan Bohannon said, "We are excited to have secured Drake Hall for the foreseeable future. We look forward to even more success with his unique and compelling content, not to mention the service he provides many as the voice of Memphians." Hall added, "I'm grateful that Cumulus Memphis has allowed me to keep the job. Many thanks to my friends and colleagues for their ongoing support; particularly, the three gifted people that join me daily. I look forward to getting up at 4am for another 30 years."
---
Jurecki Joins KMVP 98.7 Arizona's Sports Station
| | |
| --- | --- |
| RADIO ONLINE | Friday, June 16, 2017 | 0:40am CT | |

Bonneville Phoenix taps veteran sports talk show host and Arizona Cardinals insider Mike Jurecki to join the Arizona Sports content team as a talk host and multi-media reporter. Beginning June 19, Jurecki will join former Arizona Cardinals defensive player Bertrand Berry for "The Blitz with B-Train and Jurecki" each weekday morning from 10am to noon on KMVP (98.7 FM Arizona's Sports Station). He'll also produce written, audio and video content for ArizonaSports.com. Previously, he was with crosstown KGME-AM (910 FOX Sports). "I am thrilled to work with a team truly committed to producing local sports content," stated Jurecki. "I look forward to teaming up with Bertrand, a player I covered and respected on and off the field, and creating content for one of the largest local sports websites in the country." Jurecki has been covering the Arizona Cardinals and hosting sports talk radio shows in the Valley for more than 22 years. "Mike Jurecki is one of the original icons of Phoenix sports radio and is the ultimate Arizona Cardinals insider," said Bonneville Phoenix VP/Content and Operations Ryan Hatch. "Our goal is to deliver local sports fans unique and exclusive content on radio, online and on social media, and we're very excited to add him to our powerful local roster."
---
Jason Cage Takes Over Afternoons on Mix 96-5
| | |
| --- | --- |
| RADIO ONLINE | Tuesday, June 13, 2017 | 7:08pm CT | |

CBS Radio's KHMX-FM (Mix 96-5) Houston launches a new afternoon show hosted by veteran air personality Jason Cage. He previously served as morning co-host for WZMP-FM (96.5 AMP Radio) in Philadelphia. Cage joined WZMP from CBS Radio's WBBM-FM (B96) in Chicago. Cage's career began in his hometown radio market of Huntsville AL. He's also landed coverage in print and broadcast outlets around the world, including Star Magazine and US Weekly and was named one of Cheeky Chicago's "Men of the Year." "I have been a fan of Jason's work for years. Winning is in his DNA! We are excited to add him to the KHMX team and cannot wait for the Houston community to meet him," said Mix 96-5 PD Chase Murphy. "I've had obscene amounts of fun working with top notch CBS Radio teams in Chicago and Philly over the past 6 years and I'm thrilled to continue the run on KHMX Houston. Chase Murphy is an evil genius mastermind and I'm honored to be part of his plot. Thank you Erik Bradley, Brad Wright, Jeff Sottolano and Sarah Frazier for putting the pieces together," added Cage.
---
Matt Pinfield to Sign Off from KFOG Mornings
| | |
| --- | --- |
| RADIO ONLINE | Tuesday, June 13, 2017 | 1:41am CT | |
After just over a year as the morning host on KFOG-FM San Francisco, radio and television personality and rock journalist Matt Pinfield will relinquish the morning mic. He'll now focus on his two nationally syndicated radio programs, the weekly rock history show, "Flashback" and the nightly show, "Two Hours." Both programs are syndicated by Westwood One. Cumulus Media-San Francisco VP/Market Manager Justin Wittmayer said, "We thank Matt for his contributions to KFOG and wish him all the best moving forward as he continues to entertain radio audiences through his two national radio shows." Pinfield added, "I'd like to thank my family at KFOG and Cumulus-San Francisco, who I love dearly, for giving me the freedom to concentrate on my two national radio shows for Westwood One, time to focus on my book, and to continue to work on developing TV and film projects. I love the Bay Area and being part of the legacy of such a heritage radio station as KFOG."
---
WXYT Adds Park as Jamie and Stoney Co-Host
| | |
| --- | --- |
| RADIO ONLINE | Thursday, June 8, 2017 | 6:45pm CT | |
CBS Radio Sports/Talk WXYT-FM (97.1 The Ticket) Detroit taps Heather Park to join the "Jamie and Stoney Show" as co-host weekdays from 6-10am, beginning Monday, June 12. Park is a Detroit native and a graduate of Michigan State University. She is the in-park host at Comerica Park for the Detroit Tigers. In addition, Park is the past host of Detroit Sports News on WWJ-TV and is currently hosting Michigan Golf Weekly for the television station. Park has also worked for ESPN 3 as a sideline reporter. Program Director Jimmy Powers said, "Heather's experience with the Detroit Tigers and WWJ-TV combined with her personality makes her the perfect fit for the 'Jamie and Stoney Show.' I look forward to the evolution of the show with the addition of Heather." "I'm excited for this opportunity. Jamie and Stoney make such a great morning show team and I can't wait to join them to bring a new female voice to mornings in Detroit," added Park.
---
WXYT/Detroit Adds Bogenschutz as Wojo Co-Host
| | |
| --- | --- |
| RADIO ONLINE | Wednesday, June 7, 2017 | 6:48pm CT | |
WXYT-FM (97.1 The Ticket) Detroit air talent Kyle Bogenschutz will join "Wojo" to form the "Wojo and Bogey Show" airing weekdays at 6pm. Bogenschutz will also host "Pistons Weekly" beginning Thursday, June 8 at 8pm on the CBS Radio Sports/Talker. Kyle "Bogey" Bogenschutz began his career in 2010 as a sports talk host at WTKA-AM Ann Arbor, MI. In addition to his sports show at WTKA, "Bogey" worked as a Multimedia Journalist for FOX Sports Interactive and Scout Media. "Bogey" joined WXYT in 2014 as a sports update reporter and was promoted to nights and weekends in 2016. Program Director Jimmy Powers said, "Kyle has emerged as a hard-working, talented sports personality in Detroit and we are excited to have him join Wojo each weeknight. If Kyle didn't go into broadcasting, he wanted to be a basketball coach, so his passion for the game make him the perfect fit for the Pistons Weekly show." "As someone that grew up in Detroit following all four sports teams and listening to 97.1 The Ticket, I'm incredibly fortunate and honored to be a small part of this station and it's future. I'd like to thank Jimmy Powers and Debbie Kenyon for their belief in me and this opportunity, as well as Wojo and many others at the station who have been very helpful and encouraging over the last several years," added Bogenschutz.
Menu
|
Contact Us
|
Subscribe
|
Advertise
|
Privacy Policy
|
About Us
---
Copyright © 1989-2017 RADIO ONLINE ®

The publisher makes no claims concerning the validity of the information posted on RADIO ONLINE and will not be held liable for its use. No part of this material may be reproduced in any form, incorporated in any information retrieval system or otherwise redistributed without the prior written permission of the publisher.
---